Frequently asked questions
What happens at a Paint Club?
---
Whether your event is online or at a venue with friends, have a drink and some food and create your own masterpiece. You do not need to bring anything with you, we provide all materials. If you are painting from home, you can purchase a painters pack from our shop: https://www.thepaintclub.co.uk/shop For our paint and sip events at public venues lease arrive 10 minutes early to find a seat, order your drinks and get set up. The events last about 2.5 hours and are run by professional artists who can provide you with hints and tips all night.
---
I've never painted before can I attend?
---
Our events are for everyone. You will receive full instruction from a friendly and helpful artist - so whether you have an art degree, haven't ever painted or want to get back into it, it's for you! The painting is done in sections and if you need to you can ask questions as you go.
---
What is included in the ticket price?
---
Real life events: All materials are included: canvas, easel, paints, pallet, brushes, paint pot and apron. You get to keep the canvas at the end of the night. Food and drink are not included in the ticket price unless specifically stated on the ticket. Online events: The ticket grants you access to our Facebook Live group to watch the painting session. Painting materials will need to be purchased separetly in our shop.
---
How do I book a space on a Paint Club (online and offline)?
---
All Paint Club events are ticketed and there is limited availability, tickets must be purchased in advance. All our events (online and offline) are listed here: https://www.thepaintclub.co.uk/book ​ Terms and Conditions: Please be aware tickets are Non-refundable and are only valid for the Paint Club event on the date listed on your ticket. We cannot transfer your ticket to future Paint Club events, in any circumstances.
---
Do you run online paint and sip classes?
---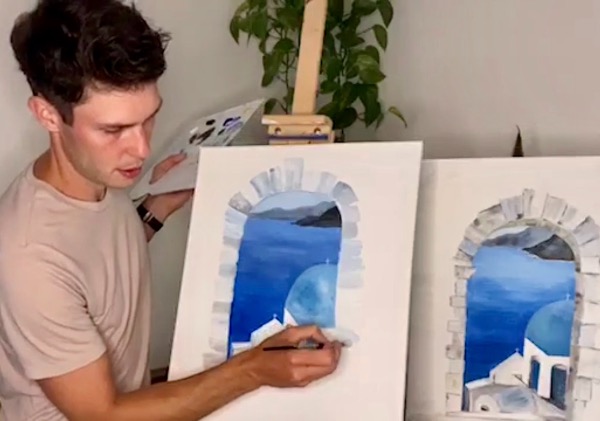 Yes we do! The Studio by The Paint Club is a private Facebook group where we host all of our online sessions. Anyone in the group can folliow along to any session they want and are welcome to share their creations with the community. Access to the group costs £10 for 1 month and can be purchased in our shop. If you want to host a private paint and sip party with friends or colleagues online; we can set you up with everything you need. Arrange a private paint party with us.
---
Do you do private art courses or painting lessons?
---
Yes! We do all sorts of events. Hen parties, birthday parties, family get togethers, corporate events and even weddings! We also offer all of our events online now too using Zoom, Google Meet, Teams, Webex and Facebook Live :) Arrange a private event with us. ​ We can help you source a venue, provide all the materials you need and set you up with a professional artist to run the event. It's all the fun of a usual Paint Club but tailored to your requirements.
---
Can I host my own private online painting party?
---
Of course! We will be happy to help organise everything you need to run an adult paint and sip party for your colleagues or for your friends and family.

We can send through all the painting materials, Zoom details and of course a professional and friendly artist to show you how to create a masterpiece.

All you need to do is let us know how many people want to take part and which painting you would like to do. Send us an email to get started: thepaintclub.co.uk/contact
---
---